SOTESHOP Open – free online shop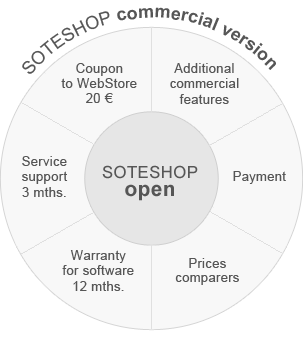 SOTESHOP Open is a free version of online shop management software. You can start selling on the Internet right away with SOTESHOP Open version - without any costs and risk.
You can always change your shop from Open version to Commercial version and gain access to many new features and services. You don't bear additional cost associated with the data migration from another system and keep your shop running without interruption.
Free add-ons and updates are available for SOTESHOP Open version.
Comparison of SOTESHOP Open and Commercial versions
Technical support

Open
Commercial
Service support
Warranty for software

Features

price:

€239 activate
Update (new features) for SOTESHOP 6 open version
Update (new features) for SOTESHOP 6 commercial version
Coding customers data in datebase
Edit of selected data on lists in panel
Orders edit
Gift cards
Allegro
Standard graphic themes
Administrators permissions
Product attributes
Prices groups
Product prices in foreign currencies

Payment

price:

€199 activate
PayPal
Moneybookers
eService
PayU
Dotpay
Przelewy24
Lukas
Polcard
eCard

Prices comparers

price:

€199 activate
Ceneo
Nokaut
Oferciak
Okazje
Radar
Skąpiec
Sklepy24
Zakupomat
We don't provide service support for Open version. SOTESHOP Open differs with functionality from Commercial version.
SOTESHOP is published under the Open Software License v3.0 (OSL-3.0).
View Open Software License v. 3.0