Restoring SOTESHOP original files
If you have your shop's files modified, the information will appear.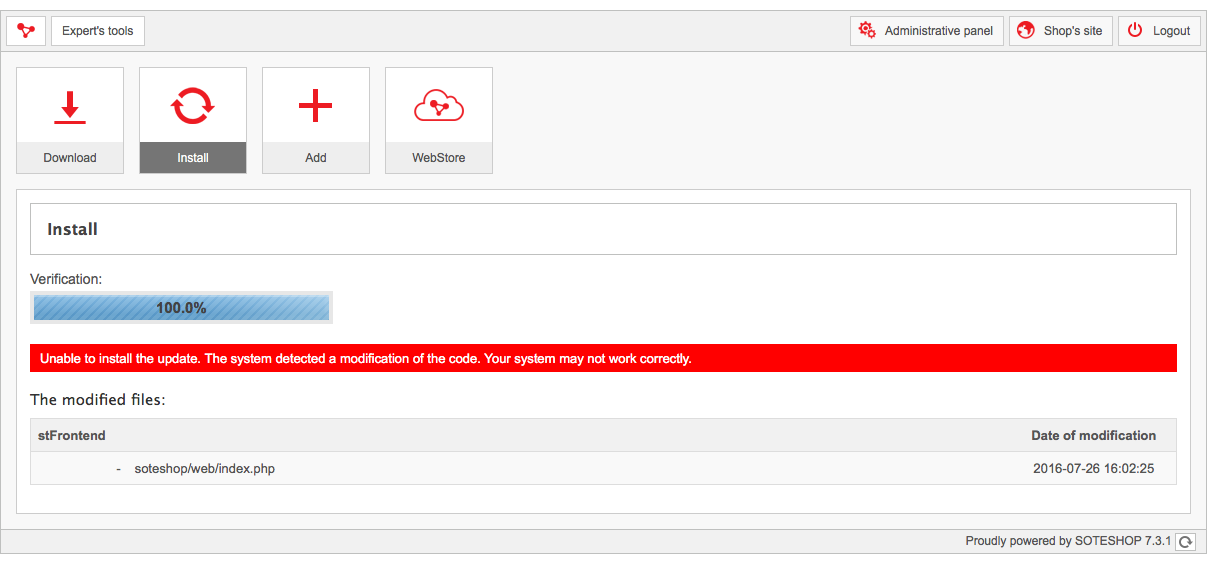 You have to restore the original files to be able to install the updates.
Enter URL address of list of the installed applications,
http://www.shop.example.com/update.php/installerweb/list
Check a version of a modified package,
Go to http://pear.sote.pl/
Press Search Packages in Packages section,
Enter module's name eg. stFrontend in the field Package Name,
Press Search,
Press a link to module,
Press Download in information column,

List with package's versions will appear.

Press package's version number matching the one installed in your shop (the version's number in the example is 7.0.1.5),
Press Download ,
Save a file on your local drive,
Unpack a downloaded file,
Copy the files via FTP client to FTP server, exactly to a place where the modified files were discovered. Overwrite the modifications.

Copy the files in binary mode.

After restoring the original files you can Install the updates.
---
The another solution is to delete the modified files from FTP server (copy the files from server to local drive in order to create a backup) and install the updates. System will automatically load the files from the latest application package in the place of the deleted files.