SOTESHOP Start - Ready-made Online Store.
If you are starting to sell online, this service is for you. As part of the service, we offer a professional online store that you can use right away and start selling online. The service includes:
Online store for up to 500 products
SOTE Start Hosting - free
Technical support - free
Graphics - free designs to choose from
Domain with .soteshop.pl ending - free
If you want to set up a store under your own domain, check out the service: Domain Registration. It is also possible to transfer a previously registered domain to SOTE servers.
See a comparison of all SOTESHOP versions: Price List - SOTESHOP Comparison
The SOTESHOP Start service applies for 1 year, after which, upon extension, which is not mandatory, the service is changed to SOTESHOP Standard.
By choosing the monthly option, you can use the store as much as you need: a month, a few months or longer, without any obligations.
Administrative Panel
Watch the short video and see what the SOTESHOP administrative panel looks like. It is the same for all versions.
Store Graphics
When ordering SOTESHOP Start, you can choose one of the ready-made professional graphic designs of the online store. The selected graphics will be set as default in the store. At any time you can change the graphics to another one using the graphics editing function. The projects presented below are standard without any additional charges.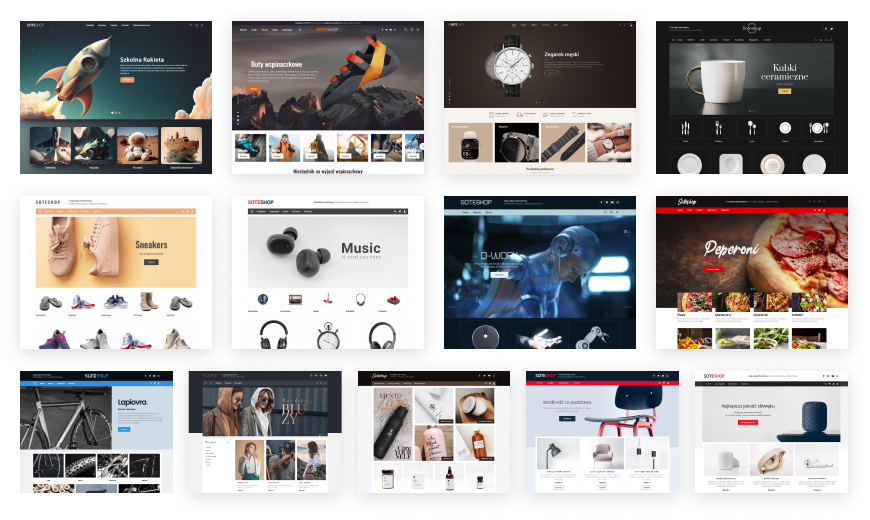 Click the link and see example stores with the selected graphics. Each of the projects includes a graphics editor that allows you to create an individual store.
SOTESHOP Store
SOTESHOP features list: https://www.soteshop.com/docs/documentation
GENERAL
Clear and attractive presentation of the offer.
Easy to use store admin panel.
Selling products and services.
Offer for individual customers and companies (b2c b2b).
Wholesale.
Shopping cart support.
Friendly customer ordering process.
Online payments: cards, transfers, installments.
Courier deliveries, parcel machines, Polish Post.
Secure sales - SSL certificates support.
Good store page positioning.
Blog, additional pages.
Support for Social Media. Remarketing.
Beautiful free graphics as standard.
Version for computers, tablets and phones.
Language versions including: Polish, English, German.
Fast page views (Fast Cache).
Store administrators (unlimited), permissions.
Quick phone contact in mobile version.
Technical support.
SALES
Selling at net and gross prices.
Retail, wholesale prices.
Price groups.
Discounts for products, categories, customers.
Discount codes.
Gift vouchers.
Basic price (e.g. price for 100ml of perfume).
Minimum order amount.
VAT invoices and Proforma.
Warehouse.
Units of measure.
Sales on Allegro.
Product inquiries.
International sales.
Individual prices in currencies.
Delivery zones.
Sales with EU VAT.
Ordering process compliant with EU law.
Sales outside the EU.
Google Shopping.
OFFER
Descriptions, photo gallery, video.
Product availability.
Advanced product categories.
Product options, individual prices, photos.
Manufacturers.
Attributes.
Accessories.
Recommended products.
Collections - marking products on photos.
Product sets.
Product groups e.g.: New, Promotions.
Import, export of offers.
Export of offers e.g. to: Ceneo, Nokaut, Sklepy24
Product page SEO.
Product reviews.
Product search.
Filtering products by attributes.
Banners and promoted products on the home page.
Google Analytics and Facebook Pixel statistics.
Hosting 
The SOTESHOP Start service includes hosting and shop installation. You will receive a ready shop from us at the address your-name.soteshop.pl - the shop name can be added in the comment to the order or we will contact you to set it.
SOTE Start hosting parameters
10 GB capacity
100 GB transfer/month
Processor load limit: 120cp/day

MySQL database usage is not included in the limit.
Free own domain
If you want to run a shop under your own domain with the .pl or com.pl extension, you will receive one domain for the first year for free. It is worth registering several domains with different extensions to protect yourself from their purchase by the competition.
Technical support
As part of the service, we offer free technical support. Access to the service is for two independent users (2 email addresses). We provide help using the professional JIRA service system, thanks to which all reports are in the database, the history of reports, the status of implementation and many other functions that help us provide the highest level of customer service.
All reports are analyzed by our employees from the SOTE team.
License
Software license: https://www.soteshop.com/soteshop/license