Online Store SOTESHOP 8.1.8
06/04/2023
A new version of SOTESHOP 8.1.8 has been released. Since the last update, we have introduced a total of 25 improvements, including new versions of cookie bars, changes in price history, Allegro, InPost Paczkomats, product imports and many more.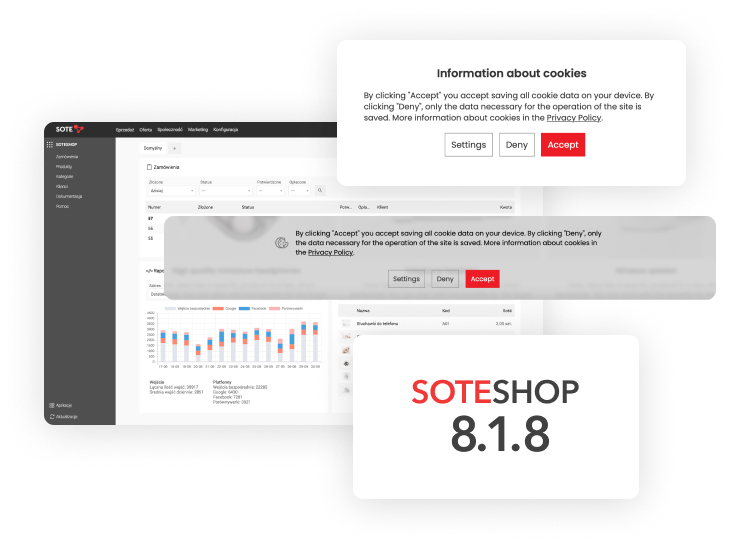 List of changes in SOTESHOP 8.1.8 version
Cookie bar: New versions of cookie bars.
Product import: Possibility to attach files in WebP format for product photos in a spreadsheet in CSV file.
Wholesalers: Update of integration with Beauty System. Fix of importing VAT rate of products.
Customers: Fix of the password change mechanism.
Integration with Inpost: Fix for packages without an assigned order.
Google Custom Search: Fix of displaying queries.
Graphics: All new graphic themes: Fixes of graphics configuration.
Language versions: Fix of changing the language version after the session expires.
Websites: Fix of shortening the page content on the list in the panel.
Price history: Improvements related to saving historical prices with discounts.
Wholesalers: New integration with Floga wholesaler - a producer of lighting.
Easter: Extension of the Easter application with video and additional pictures.
Discounts: Fixes for calculating the value of a fixed discount for currencies other than the default.
Graphics Watch and Climb: Fixes for:

displaying long category names in the menu,
the look of the Product Banners add-on,
displaying products in the Recommended Products section on the home page.

Product: Expansion of the "Product Name" field, which is displayed when duplicating a product in the store panel.
Reviews and Ads Tracker: Optimization of the modules in the panel. Acceleration of loading the order list in the panel.
Comfino and Przelewy24 payments: Fixes of the payment configuration mechanism.
Allegro: Fixes of disabling the Allegro module.
Photo configuration: Change in photo configuration for WebP. Possibility to enable WebP for GD library. Possibility to add WebP file to HTML editor.
Opineo: Update of the script for sending requests for opinions.
Compatibility Module: Improvement of the privacy policy.
Attributes: Fixes for importing attributes to the store.
Parcel Lockers - Fix for handling error messages from Inpost.
Google Custom Search - Fix for displaying product images in Google search.
Climb Theme - Fix for displaying the number of categories in a row on the home page.
Update
Updates are standard for all SOTESHOP 8 stores with SOTESHOP Start, Standard, PRO or VIP subscription services. Check the store update documentation: Store Update Documentation
---
Set up your SOTESHOP store for 14 days for free.
Check out the new version of SOTESHOP 8.
Related Pages
Recommended articles on the blog